A commonly held misbelief is that the best approach to creating good street photography is to endlessly wander from place to place with a camera at the ready, shooting from the hip and snatching shots of fleeting moments that randomly happen in a split second before your eye.
That street photography technique may get you the occasional good image over a long day of shooting; it will also result in missed opportunities and plenty of those nearly, but not quite, great shots.
A more considered approach to street photography will achieve better results in the long term, so here are the 5 steps you can take to shoot better street photography.
1. Spend some time evaluating your environment without your camera
When you find yourself in a location that you think will present you with good street photography opportunities, keep your camera in your pocket at first. Spend some time walking around the location and observing. Things you should be looking out for are how the light falls and where it strikes people, where do people interact with others and the environment, how do people move through this place, and where can you create interesting compositions such as frames, good backgrounds, or use signs or street art. Don't worry that amazing shots don't appear before your eyes. This evaluation of your environment will help you in the next step.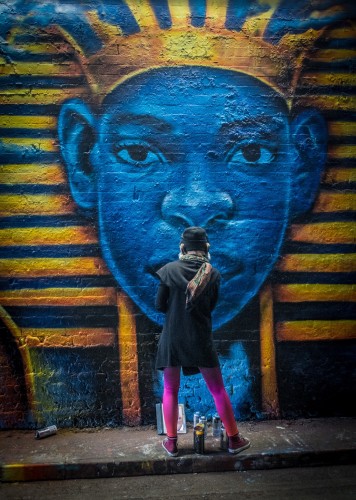 Street photo by Stephen Woollard. Stephen spotted the street art and saw that the shot would be stronger with a colourful character in it.
2. Pre-visualise some shots
Based on your assessment of the location have a think about what would make a great street photos there. Is there a humorous sign that would be a great contrast to a man in a suit, could there be an archway that would look great if someone walked through it, or a puddle that someone might jump over, maybe a shard of light that could illuminate a passerby? By thinking about what would make a great photo using the knowledge you now have of your environment and the way people behave there, you will start to prepare yourself to capture the fleeting moments as they happen.


Image by Fedor Pavlov created by finding great light and waiting for the right moment.
3. Compose 
Now that you know where the best shots are likely to be you can set yourself up to give yourself the best chance of capturing the moment. Compose your photo including the element that's going to make your great street photo, get your framing right, include and exclude all of the elements you need to in the shot. You might set yourself up opposite a stairway and compose a photo that has interesting framing, or you might set up a photo with reflections in a puddle, or incorporating some street art.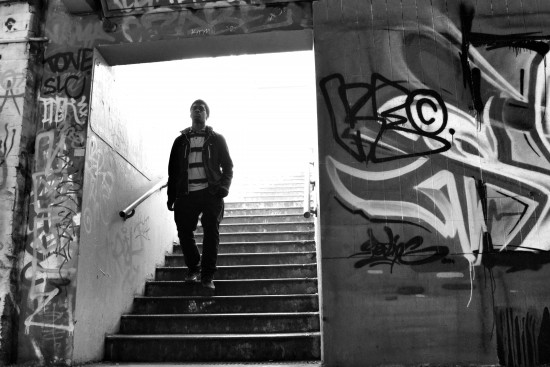 Street photo by Becky Robinson who found a frame, set up her camera, and waited for her subject to appear.
4. Prepare
After composing the shot you need to get your camera ready to get the photo. Your shutter speed needs to be fast enough to freeze any motion so we recommend a minimum of 1/125s, and your exposure needs to be just right to highlight your subject. Finally you should pre-focus on the spot where your subject will appear. Once that's all done, take a few test shots to make sure it all looks right.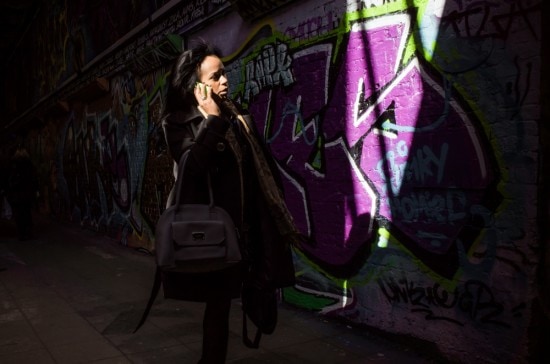 Setting up exposure for the streak of light makes this image work.
5. Wait
Finally you need to wait for the right moment to occur. You've found your interesting composition, with great light, you've set your exposure and got it all in focus. Now all you need to do is wait with your camera literally at your eye. You are waiting for that split second in which the girl strikes a pose in the amazing light, or the guy in the suit jumps over the puddle, or the two people look like they are talking to each other on their mobile phones as they pass. These moments are gone in the blink of an eye but you'll be able to capture them because you are ready. Sometimes the moment never happens, even if you wait all day, but sometime they do. That's the nature of street photography.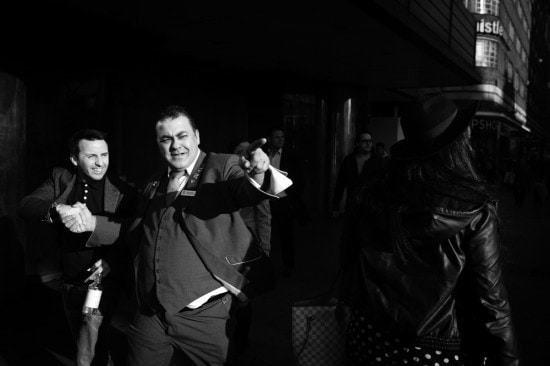 The camera was ready and set up to capture this moment.
We practice techniques like this on our Street Photography Course.

Andrew is a professional photographer and the founder of the 36exp Photographers School plus the London Photo Show.

Latest posts by Andrew Mason (see all)