Photographing movement presents photographers with stunning opportunities to capture a sense of excitement, speed, colour and action.
But, photographing fast moving objects presents challenges as well as creative opportunities, so we decided to photograph a few cyclists around London to explore the different ways of capturing the action.
Here are our top 3 tips on how to photograph movement, using cycling as an example:
1. Freeze the action
If you want to capture the grimace on the face of the rider as well as the detail in the background, you'll need to freeze the action by using a fast shutter speed. If you own camera with sports mode we recommend you use this as it will automatically select a fast shutter speed for you. DSLRs and cameras with manual controls can be set to shutter priority mode. Then choose a shutter speed of 1/500s or faster, which should be fast enough to freeze a moving cyclist.
This option is good if you want to show the detail of both the cyclist and the background

Image taken at 1/500s
2. Show the cyclist as a blur.
Should you wish to show the speed of a bike and its rider whizzing by we recommend again using shutter priority mode, then hold your camera steady (or place it one something solid) and select a slower shutter speed of 1/40s. This will cause the background to remain sharp, but will have the effect of introducing motion blur as the cyclists passes by. This option should result in photos with streaks of colour as the rider zooms by.
This option is good if you want to emphasise speed, and capture some detail in the background.

Image taken at 1/40s with the camera held steadily
3. Pan with the cyclist.
Our favourite, but the most difficult option, is to use panning. With this technique you follow the movement of the cyclist as she passes by and press your shutter whilst doing so. You'll find that this technique requires some practice. By keeping the moving object in the same position in your frame you should be able to make it relatively sharp, but you will show movement in the background due to the panning action of your camera. Try using shutter priority mode, with a shutter speed of 1/40s and moving your camera with the cyclists.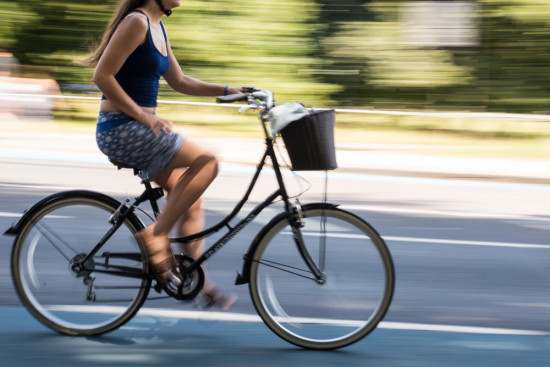 Image taken at 1/40s whilst panning.
Interested in learning more? Check out our Online Photography Course.