One of the advantages of using flash when shooting on location is that they are small and portable, yet powerful enough to light a good portrait. Being small and portable means we can take them to some interesting locations without having to lug around lots of heavy and expensive lighting gear.
This image by shows what can be achieved with two flashes and some good technique. The main light is on a light stand and fired though an umbrella to light our model's face (we also used a little bounce reflection to lift the shadows). The second light is on a small light stand, hidden behind the model and pointing directly at the brick wall. This second light brings out more detail in the wall and adds interest and depth. You can play around with the intensity of the background light to make the background brighter or darker, and you can alter the zoom setting on the flash to create a larger or smaller area of background light. And, if you don't have a second light stand to place behind your model, try placing the flash on the floor behind your subject, pointing up at the wall.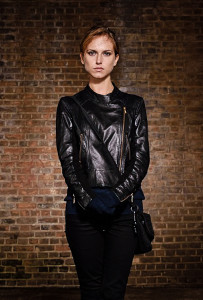 Image by Foster Congrave, created on our Flash Photography Workshop.